Aurelien Tchouameni: Who is the £85m Real Madrid transfer target
Aurelien Tchouameni got a lot of praise last season and is now said to be close to joining Real Madrid, who won the Champions League.
The 22-year-old midfielder is the latest Monaco star to see his stock rise. He joined France's senior team late last year, and now there are reports that Real Madrid has reached a verbal agreement to sign him for €100 million (£85 million).
Chelsea, Liverpool, Manchester United, and Juventus were also interested in Tchouameni. His teammate Cesc Fabregas called him a "complete, modern midfielder" last summer.
Fabregas said, in response to a question about whether Chelsea could sign Tchouameni, "We still need him… sorry."
In May, Tchouameni talked about his own future. He said, "I am under contract here until 2024, but I have the option to stay until 2025." We'll see what happens to me in the future.
"There are always a lot of things that can happen during the transfer window. There's my case, but there are also cases for a lot of other players who are out of contract or who might want to go somewhere else."
Paul Pogba, who plays for France on the international team, has also said nice things about Tchouameni.
"He's not a boy, he's a man," Pogba said. "It's fun to play with him because he brings a lot to the game." a lot of energy, great technique, and amazing physicality.
"I hope that we will play a lot of games together and that I will always be on his side."
People have said that Tchouameni is like Pogba, but Pogba isn't the only player that the young man looks up to.
People have always said that I look like Pogba and that I played like him when I was young, Tchouameni told The Ligue 1 Show.
Real Madrid and AS Monaco will now prepare official paperworks for Tchouaméni deal. It's not signed yet but 100% agreed after final meeting. ⚪️✍🏻 #RealMadrid

Part of €20m add-ons will be easy to reach. PSG wanted to offer €100m guaranteed but left the negotiations last Friday.

— Fabrizio Romano (@FabrizioRomano) June 7, 2022
"If you want to be one of the best, you need to learn from the best. I watch how Pogba uses the ball, how N'Golo Kante wins the ball, how Patrick Vieira moves from one side of the field to the other, and how Andres Iniesta, Cesc Fabregas, and Xavi Hernandez use the ball. I enjoy seeing Kevin De Bruyne play so much."
Because he likes a lot of different midfielders with different skills, he has become a defensive midfielder who can also score goals.
France U21s coach Sylvain Ripoll told L'Equipe, "On defense, he can run at a very high pace for 90 minutes.
"He always puts pressure on his opponents. He is very good at figuring out what his opponents want to do. He can play in many different ways, but when the game is in front of him, he is a monster.
"He has a great shot, and over the last two years, he has really improved that part of his game. In terms of his attacking play, he has become much more ambitious."
No player in Ligue 1 had more tackles (86) and interceptions (101) combined than Tchouameni (187). His average score on WhoScored.com was 7.32, which put him in eighth place in the league.
"We're very glad to have him on the AS Monaco team. Ex-Monaco manager Niko Kovac had said, "He's becoming a real leader in this team. Bravo to him for being picked to play for France. I'm going to talk to Didier (Deschamps) so he doesn't play him too much."
Deschamps said that other young French players should follow Tchouameni's "example." He gave him his debut against Bosnia and Herzegovina and then his first start against Ukraine.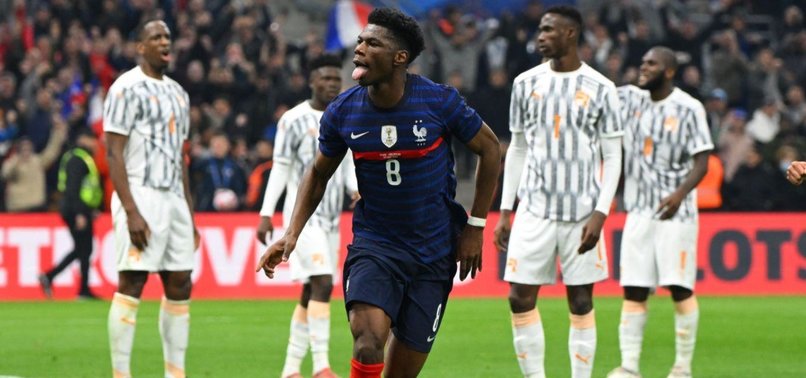 It was a reward for his good start to the season, and he had already had a breakthrough season when he started 36 of Monaco's 38 Ligue 1 games last year. L'Equipe called him the "revelation of the season" at Stade Louis II as the club finished third behind Lille and PSG.
Tchouameni seems eager to learn and doesn't mind being the center of attention. This could get worse as France's limits go up, but the taking of notes hasn't stopped yet.
He told Monaco's website, "I'm a curious person, and I often ask questions to keep getting better and moving forward, whether it's with the club or for France." "Do I often write things down? You could see some things on my phone if I showed it to you, but that's private.
"Since I moved here in January 2020, I've been getting stronger over time. I'm not the same player I used to be, but I hope to keep getting better and come back to talk to you about it in 60 games."
Even though Monaco wants to keep him, it looks like Tchouameni is going to Real Madrid, where he could play with his countryman Eduardo Camavinga.
The idea of Tchouameni and Camavinga playing together shows that Real are thinking about the long term. Even though their well-known trio of Toni Kroos (32), Luka Modric (36), and Casemiro (30) just won their fifth Champions League medal, the club is clearly not content to stay where they are.