Australia beat Peru on penalty kicks to earn a spot in the World Cup
Australia beat Peru 5-4 in a shootout after they tied 0-0 after extra time in an intercontinental playoff on Monday. Dancing substitute goalkeeper Andrew Redmayne saved the last penalty to send Australia to this year's World Cup in Qatar.
Redmayne danced across the goal line and dove to the right to stop Alex Valera's penalty kick, giving Australia a well-deserved win at the Ahmad bin Ali Stadium.
Three minutes before the end of the game, Redmayne was brought in for the shootout. He became an instant hero with his antics, which were meant to distract the other kickers.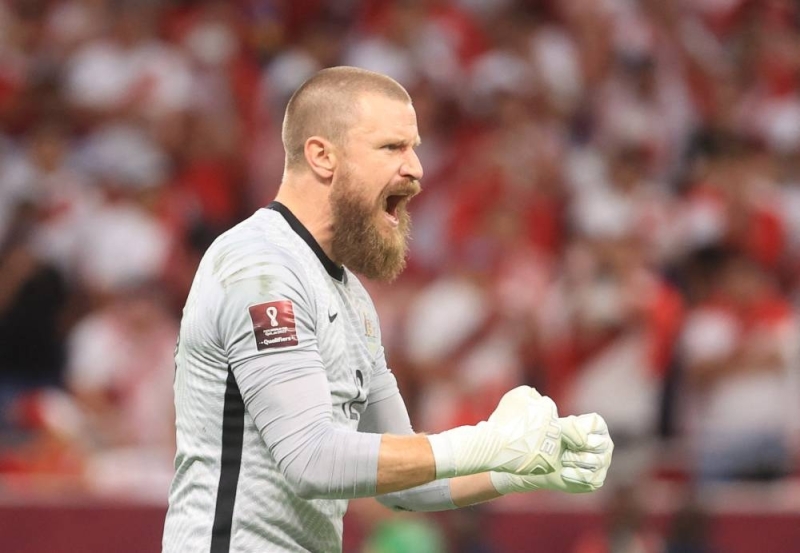 He jumped up and down, wiggled his hips, and waved his arms around like Liverpool's Bruce Grobbelaar did when they won the European Cup in 1984.
Luis Advincila's shot hitting the post and Valera's shot being saved were enough for Australia to qualify for their fifth straight World Cup and sixth overall.
In Group D of the World Cup, they will play with France, Denmark, and Tunisia. The finals are from November 21 to December 18.
Australia's coach, Graham Arnold, said, "I am just so proud of the players." "No one really knows what these boys went through to get here because the whole campaign was so hard. How hard they worked and how committed they were, that was great."
Martin Boyle missed Australia's first penalty, but they made the next five. This made the thousands of Peruvians who came to the game and cheered loudly but didn't see their team make many chances quiet down.
Instead, a hard-working Australia took control of the first few minutes. Winger Boyle twice broke through the Peruvian defense to send in dangerous crosses.
Similar to the first half, the second half had few shots on goal until the 80th minute, when Australia suddenly had three good chances to win the game.
Pedro Gallese, the captain of Peru, easily saved Ajdin Hrustic's weak free-kick. Five minutes later, Aziz Behich broke through two tackles and suddenly found himself in front of the goal. He tried to curl his shot into the net but just missed.
Then, Australia's substitute Awer Mabil ran down the left side and passed the ball to Hrustic, but Hrustic's shot didn't have enough power, so Gallese saved it again.
In the ninth minute of extra time, Edison Flores finally tested Mathew Ryan with a hard shot that the goalkeeper saved.
As the game was winding down, the South Americans stepped it up a notch, and Flores headed the ball against the post. However, after two hours of play, they still couldn't settle the score, which made Redmayne the hero.
Peru's coach, Ricardo Gareca, said, "We thought we were going to make it, and we were close, but we didn't."
"We are in a lot of pain. We gave our utmost. They used up all of their gas, and now we are out of the World Cup. We feel like we were tricked. We wanted to avoid a shootout for penalties."
The 31st place at this year's World Cup was decided by a single game between the fifth-place teams from Asia and South America.
When Costa Rica and New Zealand play in their intercontinental playoff on Tuesday, also at the Ahmad bin Ali Stadium, the last spot in the finals will be decided.