Barcelona finances, explained: How will the club manage their financial crisis after the new signings ?
On Thursday night, Barcelona president Joan Laporta returned to his favorite restaurant, joined by Chelsea's new co-owner, Behdad Eghbali (the co-chairman of Clearlake Capital is part of the consortium that bought the Blues from Roman Abramovich, alongside Todd Boehly.) When Laporta emerged and was hurried into the back of a van to evade the journalists, Egbhali's only comment was that the supper at Via Veneto had been excellent. Meanwhile, Barca's CEO termed the visit as "institutional," whatever that means. It wasn't very convincing, and reporters weren't convinced; one inquired if Eghbali was there to finalize Cesar Azpilicueta's transfer to Camp Nou, and the Chelsea captain suspected the same thing.
Not only is he perplexed, but so is left-back Marcos Alonso. Andreas Christensen had already arrived in Spain, carrying a piece of paper proving that moving to Catalonia had always been his ambition, now realized when his Chelsea contract expired. It was written when he was young and in neat handwriting, declaring his desire to be a fodboldspiller for FC Barcelona. He stated that he had informed Alonso and Azpilicueta of his intentions and hoped that they would soon join him. The day before, midfielder Franck Kessie arrived after his contract with AC Milan terminated, dressed sharply in a blue suit.
A few days later, news of another, higher bid for Leeds United attacker Raphinha emerged, raising hopes that he may actually join Barcelona despite competition from other clubs with bids over €60 million. In other developments, the transfer fee for Bayern Munich star Robert Lewandowski is allegedly approaching €40 million. Laporta had also openly discussed Manchester City's Bernardo Silva, as well as Sevilla defender Jules Kounde. And the Ousmane Dembele saga continued, six months after they advised him to quit the club and a week after he became a free agent, his future uncertain and no longer formally attached to FC Barcelona.
Frenkie de Jong was another. Barcelona had been negotiating his €85 million transfer to Manchester United, attempting to convince him to leave even if he didn't want to, but now the president has stated that he will not allow the midfielder to leave. It was extremely qualified and not precisely a vow, but he was expressing that he wanted the 25-year-old to stay.
All of this begs the question, "How?"
How did Barcelona, a team supposedly in debt to the tune of €1.3 billion, pull this off? How could they pursue so many players at such a high cost with a salary cap imposed by LaLiga of €-144 million? And why would the league allow it? How can a club characterized by its own vice president as "clinically dead" sign all these players when they took over from the regime that nearly brought them to ruin, with aspirations simply to get out of the ward – much alone the hospital?
The quick answer is no, they cannot. Kessie and Christensen were introduced this week, but they are unable to register since Barcelona does not match the league's financial fair play rules. In other words, they do not meet LaLiga's pay rules, and their budget shortfalls prevent new players from officially joining the club.
For the time being, however. They will eventually, at least that is the hope and expectation. That's why, even if it's only in the present, "they can't" isn't truly an answer. Even it may require some explanation.
Indeed, based on numerous comments, it does require an explainer, albeit a very simplified one; otherwise, it becomes extremely complex, very boring, and we will be here indefinitely. Nobody desires that.
So, aside from the obvious response that no team ever signs all of the players they chase, let alone all of the players with whom they are linked, here are a few hints as to how a club that appears unable to sign any players would end up signing players. Maybe even a lot of them, and even for a lot of money.
To begin with, there are several interconnected processes occurring in parallel here:
One is the club's overall financial situation, which must always be balanced with the club's competitive position in the short, medium, and long term.
Another factor is the club's capacity to meet budgetary targets, which is why there was a rush to implement the first of the now-famous "economic levers" — more on these in a moment — before July 1.
The third factor is the club's ability to meet the league's signing standards. And that is the one that is currently the most important.
The limite salarial, LaLiga's equivalent of financial fair play, is the amount that a club is permitted to spend on the first team, which is determined by the league following an analysis of the club's audited books. It is made up of transfer fees, amortisations, and wages. It's an oversimplification, but it's essentially an estimate of what the club can afford based on income and expenses. There are recommendations that salaries should not exceed 60% of a club's revenue, however the correlation is not as clear as that.
It is also – and this is critical – used prior to signings. This is not like other financial controls in which a club that violates the rules is penalised afterwards. If a team does not match the criteria, it will be unable to sign a player. Registration is done digitally through an app that does not allow you to click "Accept." As a result, any player you try to add will simply not be registered, and his registration will be incomplete. The computer will reject your request. Of course, there are ways to transfer money around, postpone payments, and spread costs – remember the Arthur/Miralem Pjanic swap agreement with Juventus, for example – but that can't go forever, and it only gets you so far.
Salary restrictions change all the time, based on how much money comes in and goes out. Barcelona's €-144m deficit, the league's only negative total, was caused by higher-than-expected costs and some losses carried forward from the previous year. That value is the most recent announced limit, not the current limit. The next figure will be determined later this summer; as it stands today, Barcelona must make good on €144 million before reaching zero. Which would still imply that they had nothing to invest on players.
But that doesn't mean Barcelona doesn't spend money on their team; their yearly pay budget is around €560 million. It just means they can't. Or, more precisely, they cannot spend again: because they do not meet the targets, they cannot add to it, except under strict and constrained conditions (more of which in a minute.)
So, what exactly does it all mean? Barcelona, on the other hand, needs to decrease expenditures and create money quickly. The apparent solution is to sell players for a large sum of money or to let their top pay earners find new clubs. They've tried both, and they're still trying, but neither is simple; players aren't eager to take salary cuts or quit teams where they're happy and earning a lot of money. And there's only one thing worse than being on the market when you don't have much money: being on the market when everyone knows you don't have much money.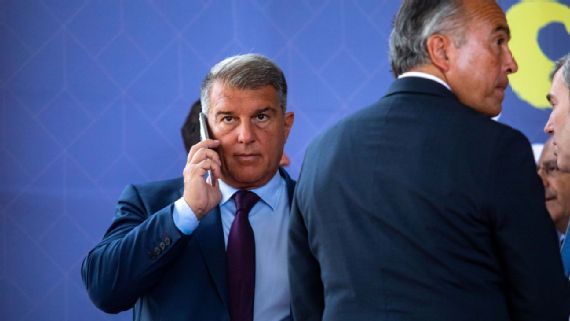 There are other methods to get money, such as the Spotify sponsorship contract. Increased revenue from match day, marketing, and other sources. Then, when confronted with a crisis, Barcelona devised palancas, or "economic levers."
They sought to accomplish this in two ways. One was an agreement in which they agreed to sell up to 25% of their LaLiga TV money for up to 25 years. The other option was to sell up to 49.9% of BLM, the firm they formed to oversee their marketing and licensing. Is this a wise decision? It's a legitimate issue, but it might not be the question right now. The response may be "no, not really" — after all, you're selling an asset or a portion of future earnings — but they needed a solution. Privatization of assets was always a viable option.
The first of these palancas was recently confirmed, and after two years of losses, it enabled Barcelona to meet budgetary targets, making a profit for the fiscal year that ended July 1, and also having an impact on that salarial limit.
Barcelona sold 10% of the money they will make from LaLiga TV rights (not Champions League rights) over the next 25 years for €207.5 million. The TV contract is currently worth €166 million to them. So, if that arrangement does not alter (which it should, of course), they will be paying €16 million each year for the next 25 years, beginning this year: A total of €400 million during that time period in exchange for €207.5 million now, when they are most in need. In essence, a debt guaranteed by future earnings.
Barcelona now hopes that, having relieved the strain and bought themselves some time with that deal, they can sell a further 15% for closer to €400 million. Hitting that aim will be difficult, but if they do, it will mean raising just under €600 million (€607 million less the €16 million they lost this year). Then there was the prospective BLM deal, which Barcelona said could be worth approximately €300 million. (It would be a joint venture, and offers of €270 million or more have previously been rejected.)
Does that mean they can sign and register players with that package? Yes, but not by itself. Barcelona said a few weeks ago that even if they made €600 million from the palancas, it might not be enough. However, not long after, LaLiga president Javier Tebas stated that €500 million should be enough to allow them to join.
To explain why, consider the following: Using Barcelona's salary restriction of €-144 million and their actual salary mass of €560 million (which they hope to lower to €400 million), they would need to hit €704 million to generate a positive balance. They would fall short if they could only raise €600 million, the lower end of their early projections. If they made €800 million, which is at the upper end of early projections and improbable, they would have a €96 million excess that might be invested.
If they did fall short, they could still spend by taking advantage of LaLiga criteria put in place as a result of the COVID-19 pandemic and designed to give clubs some leeway within the framework of reducing costs, based on the belief that they could not prevent clubs from having any access to any means of changing their squad while being locked into a commitment to balance the books. This is the 1:4 ratio, which allows teams to invest €1 for every €4 saved. Simply put, if you sell a player for €10 million, you can invest €2.5 million. Alternatively, if one player alone contributes for 5% of their budget, they can invest 50% of what they save.
If a club reaches a point where their pay restriction really correlates to the existing wage mass, it can invest at a 1:1 ratio. In other words, for every euro you show that you can save, you may invest since you are maintaining that level. And it is this ratio, rather than a sudden surplus for additions, that Barcelona aspires to. Laporta has stated that he hopes to do so even while fighting the sale of half of BLM, citing the company's continued efforts to cut across the board: sales, salary reductions, and cuts. This summer will demonstrate how realistic that is.
Hence Barcelona tried to dump De Jong initially, and now they say they don't want him to leave, acknowledging that wage modifications would be necessary to keep him. Hence Kessie and Christensen are free agents. As a result, Dembele's contract was offered with a pay cut, and Sergi Roberto's deal was renewed on reduced salaries. Hence Clement Lenglet's loan to Tottenham, the renewal of Samuel Umtiti only to renew attempts to move him, the pressure on Gerard Pique Costs must still be drastically cut. It's not by chance that Laporta mentions hope not to have to let De Jong go; he knows he still might, and De Jong is the squad's most appealing talent.
Laporta has insisted this week that, while they want to build the squad that manager Xavi Hernandez wants, and while he feels some obligation to follow through on his promise to Lewandowski, even as the transfer fee skyrockets far beyond what they'd hoped for, any decisions must also take financial criteria into account. (As a result, some of the agreements being touted are as unrealistic as they appear.) There are still too many players earning too much money, exits that must be found, and methods to cut costs – not simply to improve their salary limits, though that is the immediate issue, but because they must. They must, though, improve their team – or at least feel they do. It is not simple. It's difficult to breathe in and out at the same time, as one clever expression put it.
"We have to secure that second palanca first, and then we can sign at 1:1," Laporta explained.
Will they be able to find a euro for every euro they wish to invest if they get to that point? They must, which takes us back to the original question: How?
This is the mechanism that allows it to happen. It is debatable whether this is the right approach, whether you believe everything you are told, whether this summer ends the way the optimists hope or the way the pessimists fear, but yes, it is possible to sign some players, even if they are expensive — Barcelona has set an outgoings target of €200 million. However, signing all of them is not doable. The system will not allow it, which is commonly missed.
Much has been made of the fact that Barcelona (and other teams) are even allowed to sign at all; it has frequently been said that they are simply allowed to keep spending, repeating past mistakes and piling up new debt. The charge is that they have been indulged or dodged punishment for their financial irresponsibility, continuing regardless of the consequences. While the former may be true, the latter is just not true.