Chelsea Takeover: What does Roman Abramovich's comment implies for Todd Boehly and Clearlake Capital?
As Roman Abramovich's spokesperson, Todd Boehly, and the Clearlake Capital consortium are said to be pleased with the Chelsea statement, there are serious concerns about the deal going through.
Although various reports have surfaced over the previous few days, rumors that Abramovich wanted his £1.6billion loan returned have been refuted.
As stated on Chelsea's official website, Mr. Abramovich's plans to donate the revenues of Chelsea's sale to charity have not altered.
Mr. Abramovich's team has picked top leaders from UN entities and other worldwide philanthropic organizations who have been charged with setting up the Foundation and creating an action plan for its operations since the first announcement," the statement said. In meetings with government officials, the principal independent expert has presented the framework and first ideas. Experts with years of experience working in humanitarian groups have handled this task independently, without Mr. Abramovich's involvement or knowledge.
He has not requested for any debt to be returned to him; such assertions are incorrect; as are accusations that Mr. Abramovich upped the purchase price at the last minute. In order to identify a worthy custodian for Chelsea FC, Mr. Abramovich has asked each bidder to commit to investing in the club – including the academy, women's team, essential stadium reconstruction as well as preserving the work of the Chelsea Foundation – throughout this process.
It is now subject to European Union penalties because of sanctions and other limitations placed on Mr. Abramovich since he announced that he would be selling the club. So, officials are going to take control of the money, which means they'll be frozen and subject to a legal process. The Foundation will still receive these payments. These limitations and their legal ramifications are well-known to the government.
Cleary, Mr. Abramovich will not be able to access or manage these monies after the sale of the company. Chelsea FC's owner, John W. Henry, has not wavered in his desire to recruit a new manager and ensure earnings benefit charitable organizations.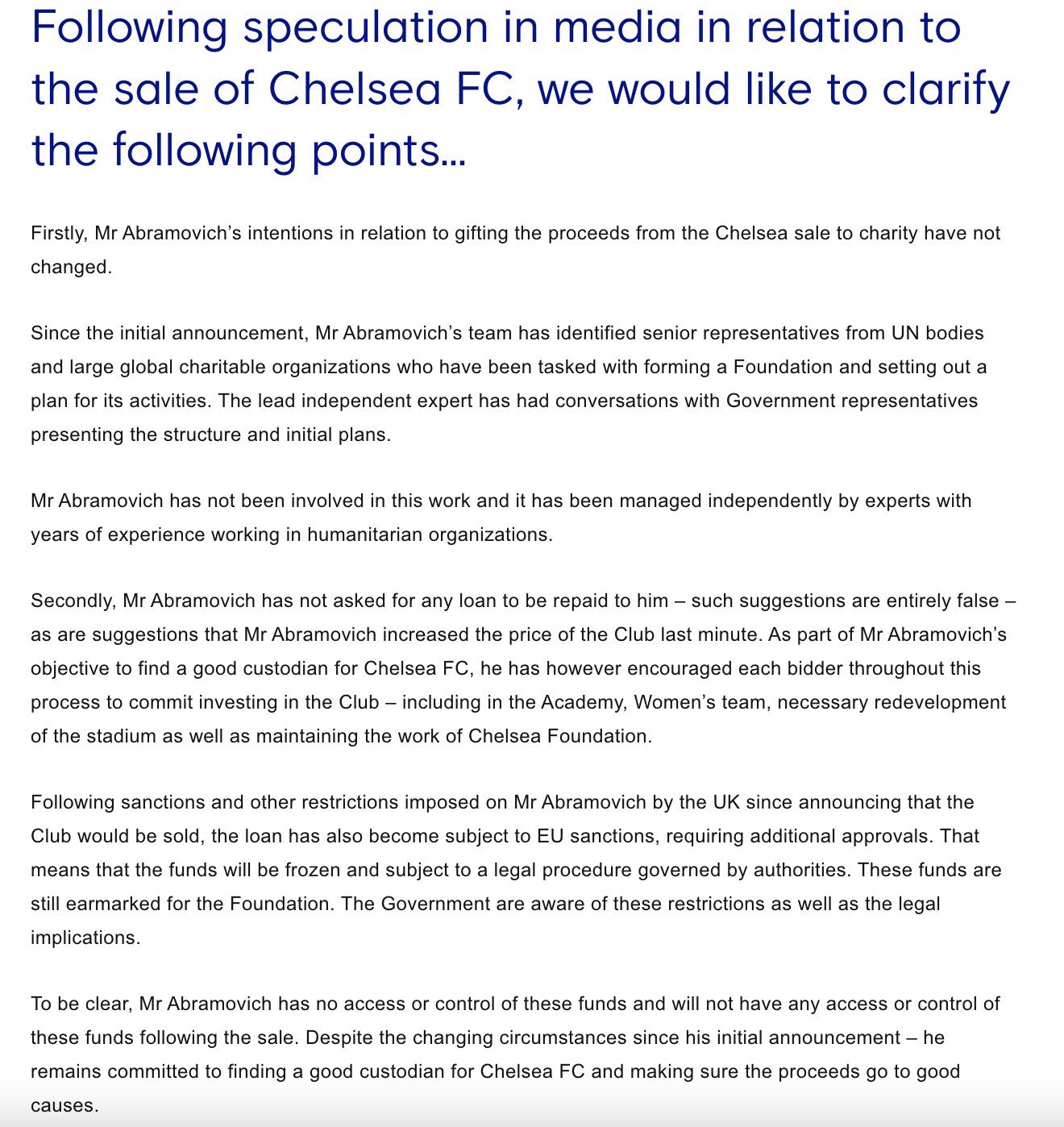 The group led by Boehly has been granted exclusivity to complete the deal, despite a last-minute effort by Britain's wealthiest man, Jim Ratcliffe, the Raine Group.
Clearlake and Boehly are thought to be 'comfortable' with the sale concluding despite Abramovich's remarks clarifying the issue. CBS' Ben Jacobs, who has been following the takeover from the beginning, says this.
Chelsea owner Roman Abramovich issued a statement confirming that £1.6 billion in debts would be blocked. Sanctions prevent him from lawfully canceling his debt. Also reaffirms that all revenues from the sale of the book will be donated to charity. There is no mention of "victims of the conflict in Ukraine," but that remains the intention.
According to DCMS sources, Clearlake-Boehly is satisfied with the proposal (which has altered throughout a fluid process) and the government will approve this treatment of the debt. "As previously stated, a sale is imminent."